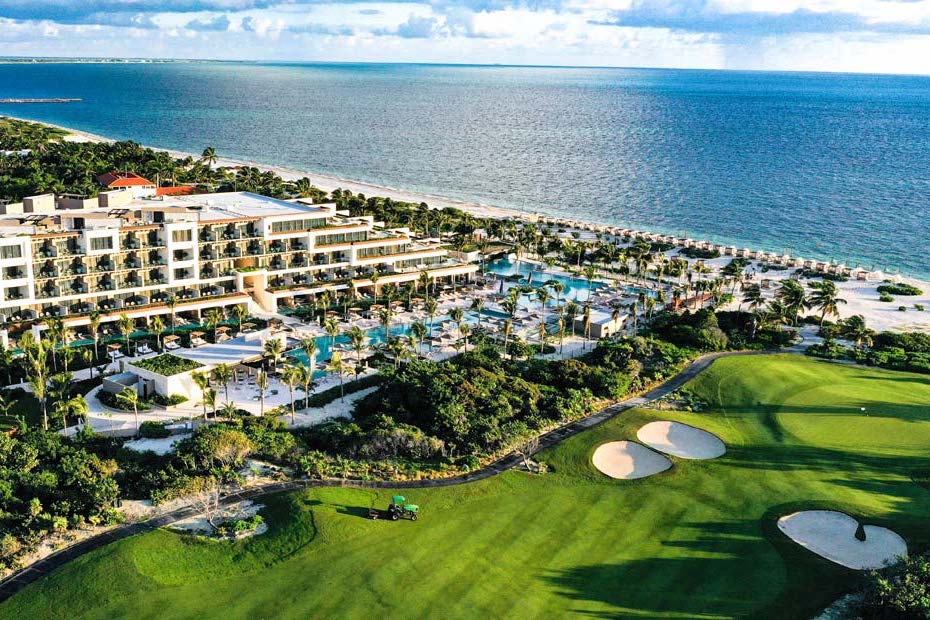 Rediscover Playa Mujeres & Cancun With ATELIER de Hoteles
Situated by the pristine waters of the Caribbean Sea, Cancun—Mexico's most acclaimed holiday destination—just celebrated its 50th anniversary. In 1970, when the development of Cancun was just beginning, only three caretakers for a coconut plantation lived there. Today, Cancun is Mexico's premier tourism destination, earning the trust and love of millions of Americans and international travelers each year.
Recognized for its coral white sand beaches, first-class hospitality, top-notch resorts and outstanding service culture, Cancun emerges in 2021 as one of the most in-demand, safe and modern travel destinations in the world.
However, this year there is more to Cancun than meets the eye. Playa Mujeres, its newest destination, is here to steal the show. Elegantly nestled just 10 minutes north of Cancun, Playa Mujeres is Cancun's most exclusive luxury destination to explore this year. Away from the hustle and bustle of crowds, surrounded by mangroves and rainforests, this sophisticated new paradise is seamlessly aligned with nature.
According to Oliver Reinhart, CEO of ATELIER de Hoteles at Playa Mujeres and one of the most active figures in the recovery of the region, "the best is yet to come." As he explains in our exclusive interview, "Regardless of the initial damage caused, this pandemic has taught us a lot. But, most importantly, it has awakened an even greater sense of responsibility in terms of how we take care of our guests and our planet. We can now confirm that we have come out stronger—renewed and ready to offer an exceptional, safe, and improved experience for all our visitors."
Reinhart was one of the main promoters of the #Come2MexicanCaribbean campaign, in which over 200 hotels and service providers participated during the period of reactivation of tourist activities in Quintana Roo. By attracting national visitors through different deals and promotions, the campaign was a success.
ATELIER de Hoteles launched its first hotel in 2018; since then, international recognition and awards have poured in, positioning it as the absolute leader in luxury hospitality in Playa Mujeres. Recent awards include the highly sought-after Traveler's Choice award 2020 by Tripadvisor, as well as the Best Unique Hotel Brand award 2020, granted by the CCRA Travel Commerce Network. Additionally, in January 2021 ATELIER Playa Mujeres was acknowledged by the Gold Key Awards in the categories Best Resort and Best Guestroom Upscale.
Today, as the pandemic slowly resolves itself, ATELIER Playa Mujeres is fully operational and more than ready to reinvent your idea of luxury. As Oliver remarks, "We offer our guests the opportunity to experience a safe and peaceful stay, with exceptional surroundings, unique contemporary Mexican art, technological innovation, and stylish architecture like no other resort in Playa Mujeres. Our more than 430 suites in different categories, with breathtaking views of the Mexican Caribbean and Isla Mujeres—together with our signature restaurant María Dolores by Edgar Núñez, Greg Norman 18-hole golf course, and NUUP Spa—have been designed to meet all the needs of even our most demanding guests."
Oliver explains how ATELIER de Hoteles has also developed new procedures to ensure safety at all levels. "At ATELIER de Hoteles, cleanliness and hygiene have always been a priority in all our resorts. The new protocols and measures put in place, together with official regulations regarding safety and disease prevention, were the logical step forward for our Shielded Vacations protocol, which was developed by our health experts and medical staff."
Heading one of the most prestigious resorts in Cancun & Playa Mujeres was no easy task for Oliver during the pandemic, but the values of positivism, quality, and the true passion for hospitality that ATELIER de Hoteles embodies allowed Oliver and his team of arteleros to exceed every expectation. These efforts resulted in diverse certifications like the SafeGuard seal of protection, awarded by Bureau Veritas for the fulfillment of the highest standards of biosecurity, as well as with some international institutions, including SafeTravels by WTTC, Health Emergencies Programme in collaboration with the World Health Organizations (WHO); and Mexican institutions like IMSS, which certifies that all resorts' staff are duly trained in the detection of possible COVID symptoms, and handle safe procedures.
"While the current pandemic has had really disturbing effects in other countries, Mexico and more particularly the Mexican Caribbean have emerged stronger than ever from 2020, quickly adapting to our new travel reality."