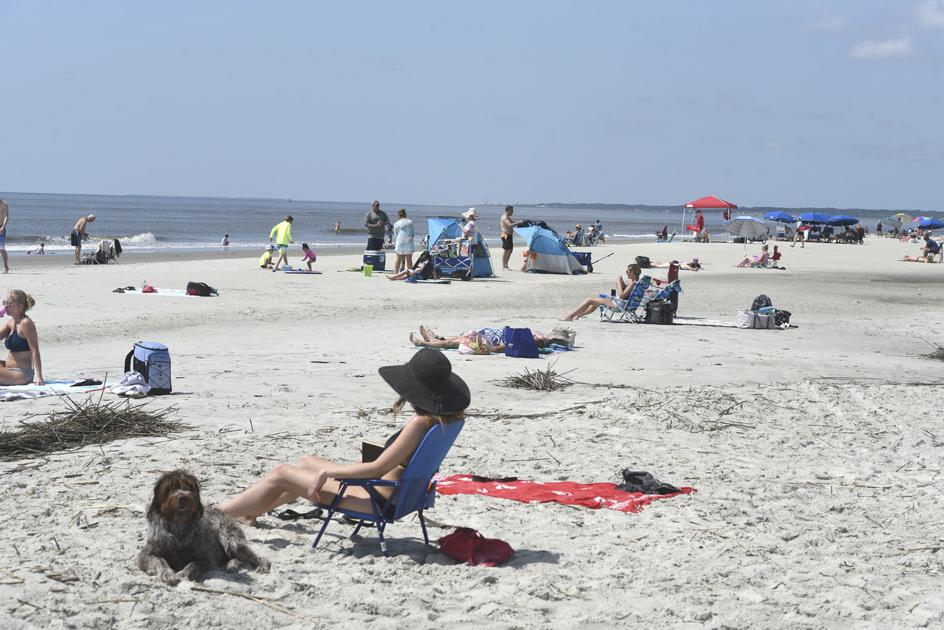 Beach plan closely reviewed as SPLOST project | Local News
Plans to overhaul the beach access and parking area around the old Coast Guard station on St. Simons Island go back more than a decade by some accounts.
Local officials now seem interested in taking action. But not all agree on how much of the load the county government, which owns the property, should share.
Glynn County government first kicked around the idea of building up the park into more of an attraction over 10 years ago, from what commissioner Cap Fendig can remember. The county government put plans together in 2011 and 2014, neither of which went anywhere, he told the commission at a Thursday meeting.
This time, the local government has a chance to get it done, he said.
In 2018, the commission approved the Coast Guard Beach Park Master Plan, a total redesign of the beach access and parking area developed in a collaborative effort headed up by the Golden Isles Convention and Visitors Bureau, and Coastal Georgia Historical Society.
Priced at about $4.9 million, the project takes aim at perceived deficiencies in the park's presentation, amenities and efficiency.
CVB President and CEO Scott McQuade believes the master plan is necessary if the island is to continue growing as a tourist destination. As it stands, the old Coast Guard station is the largest and most accessible beach access on the island, and it's in "a state of complete disrepair."
Aside from simply leaving a bad impression aesthetically, he said the park gives off the vibe that the local government doesn't invest much in the beach.
"Certainly having it look the way it does — with giant puddles — rotting telephone poles and decaying infrastructure, we're not conveying the impression we have a strong lifesaving program in place," McQuade said.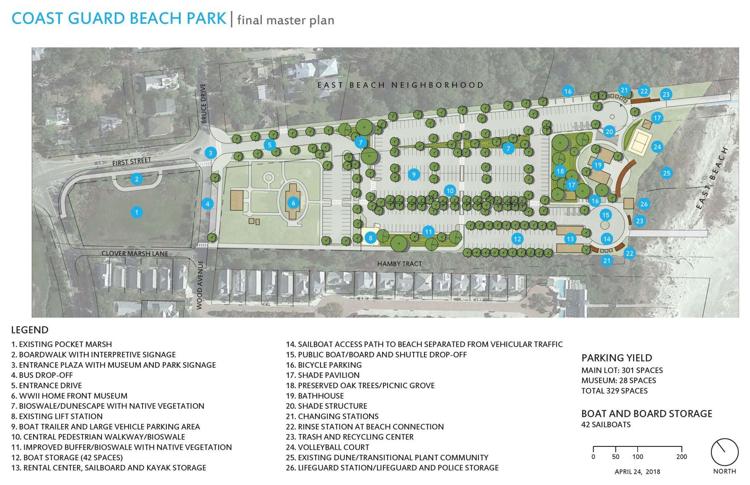 Overhauling the parking lot, bathhouse and St. Simons Surf Sailors' boat storage lot would have cost around $3.5 million, according to historical society Executive Director Sherri Jones. The $4.9 million proposal also includes a lifeguard tower, which would give county lifeguards a place to stage their efforts and to keep an eye on nearly the entire length of East Beach.
The parking lot at the old Coast Guard station — which is now occupied by the historical society's WWII Homefront Museum — can accommodate an estimated 230-250 cars, which would jump to 300 or so under the conceptual master plan. Rather than simply attracting more people, this would also be a safety feature in providing space to absorb runoff parking typically found along East Beach Causeway.
Complaints from both beachgoers and maintenance staff about the existing bathhouse — that it is poorly laid out and hard to clean during peak hours — would be addressed by a brand new building, around which the master plan shows a volleyball court, small courtyard with picnic tables and grassy green space.
A second beach access route from the parking lot to the beach, which is barely more than a footpath, is shown expanded to about equal the size of the primary access on the north side of the property.
It would have countywide benefits, Jones said, providing a nicer amenity, more parking for those who don't live close enough to walk and a boost to the tourism industry that many in the Golden Isles rely on.
"The key thing I think is this is one of the only if not the only project on the list that benefits all of Glynn County," Jones said.
The obvious question that has dogged those in favor of the plan is this: How do you pay for it?
Jones and McQuade brought a few different funding methods to the commission in 2018 that did not pan out, but now they believe they have a solid action plan and a funding model to keep the park running without having to burden taxpayers.
The starting point is Special Purpose Local Option Sales Tax 2021, $4 million from the county's $37.8 million cut to be exact. As currently proposed, SPLOST 2021 would run for three years and collect $68.5 million, if approved by the voters at a special election in March.
Glynn County would split the rest of the $30.7 million sales tax revenue with the city of Brunswick, the Brunswick-Glynn County Joint Water and Sewer Commission and the Jekyll Island Authority for infrastructure and capital improvement projects.
The remaining $900,000 would come from private funds raised by those who stand to benefit the most, Jones said.
This Coast Guard Beach effort is fundamentally different from those 2011 and 2014 plans, McQuade explained, and is deserving of the community's support. Whereas earlier efforts were taken on unilaterally by the county government, the master plan was a grassroots effort, he said.
First and foremost, it was developed by the community, McQuade said. Input came from the CVB and historical society, but also hotel owners and operators, community groups, and clubs and residents of nearby neighborhoods, among others who commonly use the parking area.
A $1 per hour parking fee — which Glynn County Commissioners learned Thursday night they may not be able to levy exclusively on visitors — could raise upwards of $600,000, more than enough to cover park maintenance and operation, and the expanded lifeguard program built around the proposed lifeguard tower.
The master plan is multi-faceted in what it is intended to achieve, Jones said.
More parking would accommodate more people and go a long way toward cutting back on overflow along the streets and neighborhoods outside the old Coast Guard station access, a lifeguard tower and expanded program would not only ideally prevent drownings but also attract more visitors to a safer destination and the prettier park would also draw more tourists to St. Simons' beach, stimulating a local tourism economy that was hit hard by the COVID-19 outbreak and will likely not recover for years.
"Now that times are tough, and I think they're going to be tough for the foreseeable future, it's not going to be record-setting years every year," McQuade said, referencing the all-time highs the local hospitality industry enjoyed in the years before the pandemic hit. "We really have to make sure our amenities and our experiences are worthy of travelers to come to."
McQuade and Jones have an ally in Glynn County Commissioner Bill Brunson, who made a plea Thursday night to the other six members of the local governing body to add the $4 million ask to the SPLOST 2021 projects list.
"Several thousand years ago the good Lord blessed this community immeasurably, he gave us an ocean and we've done very little to capitalize on that gift we were bestowed," Brunson said.
He believes it to be the most significant item on the list. Improving the parking area into a real park would check multiple boxes typical of SPLOST projects — recreation, infrastructure, public safety and economic development
"I think it addresses a lot of needs and obviously will give us a revenue stream going forward" in the parking fee, Brunson said. "You don't see many SPLOST projects that do that, and you don't see many with a $1 million infusion of private capital."
Stepping up the county's lifeguard services has long been a goal on the commission's mind, and including the lifeguard tower would further that.
His final point was that it would provide a return on investment. Citing parking fees on Jekyll and Tybee islands, Brunson said a plan to implement a parking fee turns the Coast Guard Beach Park project from a money sink into an investment with returns.
Staffing and operating the new lifeguard tower could add upwards of $75,000 to $100,000 to the $215,000 the county spends on lifeguards and maintenance at Coast Guard beach currently, said Recreation and Parks Department Director Lisa Gurganus.
County attorney Aaron Mumford informed commissioners that locals could not be exempt from the parking fee under state law. Other communities in Georgia have tried in the past, he said, and it could be "legally problematic" for Glynn County to do so.
"I would hope there's some way to keep the local people from paying the parking fee, but I don't think there's a legal way to do that," Brunson said Friday.
No commissioners dispute that overhauling the Coast Guard parking area would be beneficial to the local community and economy, but they're not in lockstep on the subject of how much the county should contribute financially.
At-large Commissioner David O'Quinn, who lives on St. Simons Island, went into the county's last meeting believing that allotting $2.5 million to the project and breaking it down into phases would be adequate.
Nothing he's heard from other commissioners, the historical society or the CVB changed his mind.
"I agree, if we could do it all at once we should do it all at once, that's the better way to do it. But at this point, I don't see how we can," O'Quinn said.
SPLOST can run for up to five years, six if the government designates an all-important Phase 1 project, and Glynn County generates about $20 million annually on a 1 percent sales tax. At a three-year collection period, O'Quinn said the county commission has to carefully consider how it distributes money from the tax.
"I'd love to give them the $4 million, but I think based on the revenue the $2.5 gets us started," O'Quinn said.
Commissioner Allen Booker, whose district is mostly within the Brunswick city limits, similarly supported the project but felt that money could be used to equal effect at Selden or Blythe Island Regional parks.
Glynn County commissioners will resume discussion of SPLOST revenue allocation at a special called meeting tomorrow at 9 a.m. The meeting will be held virtually and broadcast live to the county's YouTube and Facebook accounts.
According to O'Quinn, the county is trying to balance many needs in the community and may not be able to provide what McQuade and Jones ask. He is, of course, one of seven commissioners, and he said the full body may feel differently.
"When the industry is in jeopardy the whole community suffers," McQuade said.